CAFMET 2024 – 22/24 avril 2024 – Marrakech
The CAFMET organise la 9ème Conférence Internationale de Métrologie en Afrique, qui se déroulera du April 22 to 24, 2024 in Marrakech (Morocco). This unique event is a crossroads for exchanging and sharing information, ideas and experience through conferences, technical workshops, round tables and exhibition stands. CAFMET 2024 is a multi-disciplinary event covering all sectors of activity: health, the environment, agri-food, construction, pharmaceuticals, energy, transport, etc. CAFMET 2024 will focus on measurement, metrology, quality, data, safety, reliability, maintenance and the industry of the future.
Topics
Measurement in the field of energy
Health measurement
Measurement in the food industry
Environmental measurement
Measurement in buildings
Transport measurement
Quality and metrology in laboratories
Quality and measurement in industry
Legal metrology and regulations
Metrology fundamentals
Accreditation, certification and norms
Competence and quality management
Reliability, safety and maintenance
Statistics, validation and uncertainty
Call for Abstracts
If you are interested in presenting a lecture at the CAFMET 2024 event, you can write an abstract and send it to us. Once we have received it, the CAFMET scientific committee will analyse your abstract and decide whether or not to allow you to continue with the process. If your abstract is accepted, you will then be able to write an article, with the aim of having it published in a scientific journal. And you will be able to take part in the conference by presenting your work to the various participants.
You can send us your article via this link: Call for abstracts - CAFMET 2024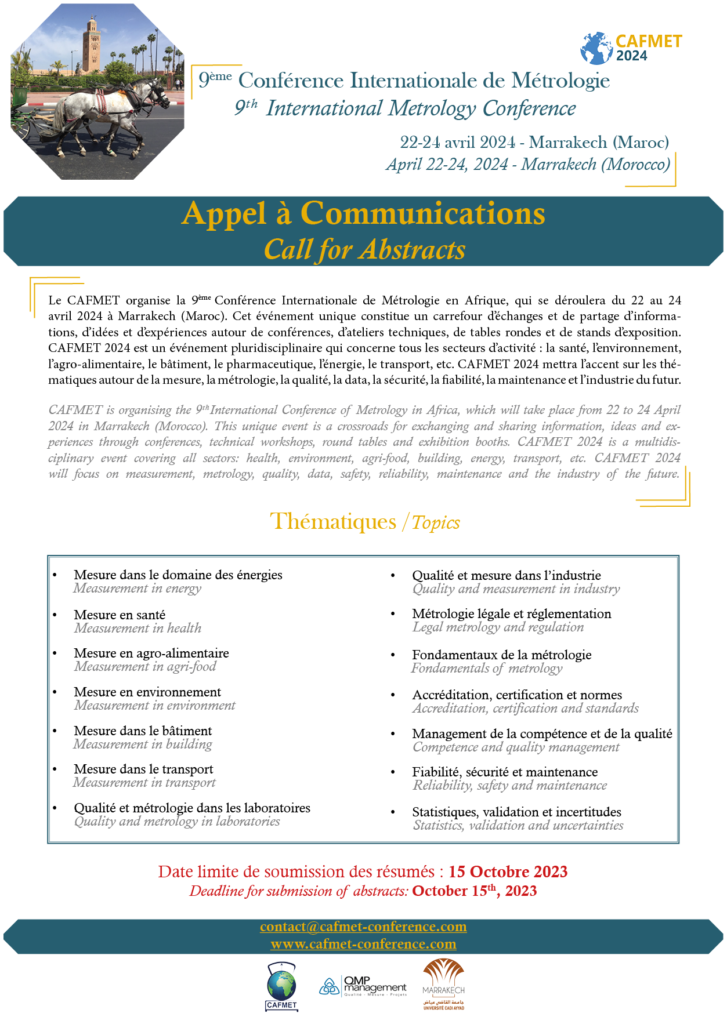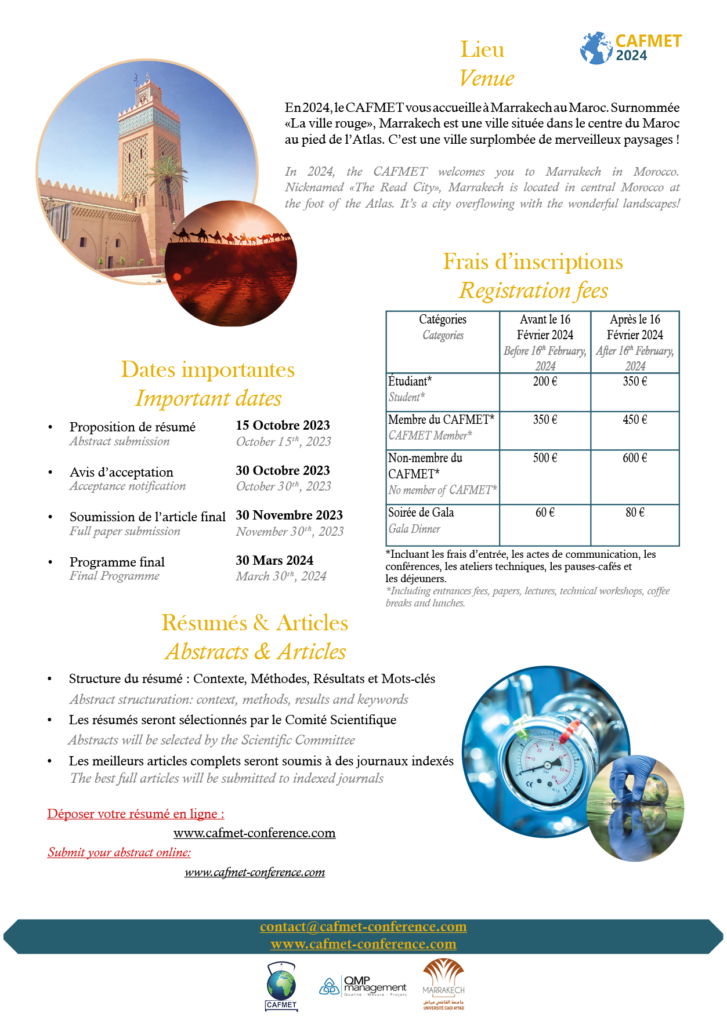 Importants dates
Proposed abstract: October 15th, 2023
Notification of acceptance: October 30th, 2023
Full article submission: November 30th, 2023
Final programme: March 30th, 2024
Register
You can register now by clicking here: Registration - CAFMET 2024