CAFMET CONFÉRENCE
Casablanca

+33 (0)6 73 62 32 62
La conférence CAFMET constitue un carrefour d'échanges d'informations, d'idées et d'expériences autour du Management de la Qualité et de la Métrologie. Il s'agit d'un événement incontournable pour toutes les personnes intéressées par la performance organisationnelle d'un laboratoire ou d'une entreprise, et l'impact du niveau de fiabilité des données mesurées ou utilisées pour la validation d'une méthode, d'un procédé, d'un produit ou d'un système.
Themes :
Measurement in the field of energy
Health measurement
Measurement in the food industry
Environmental measurement
Quality and metrology in laboratories
Fundamentals of metrology (Dimensional, Mass, Temperature, Volume, Pressure,...)
Quality and measurement in industry
Legal metrology
Accreditation, certification and norms
Competence and quality management
Risk, reliability, safety, maintenance
Statistics, validation and uncertainty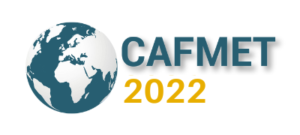 Événement international autour de la Métrologie, de la Qualité et de la Mesure. Rendez-vous en mai 2022 à Casablanca.
Join the event